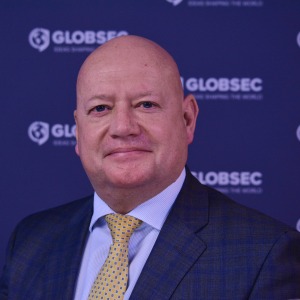 John Barter was appointed CEO of GLOBSEC in February this year. GLOBSEC is a leading international thinktank, based in Bratislava, Slovakia. It combines renowned flagship-events with state-of-the-art research on various international issues related to global stability.
John is originally from the UK; John has lived in Central Europe for the past 19 Years and during his time as the Regional Director for BAE Systems was the first Corporate Sponsor of the GLOBSEC Forum in 2005.
John has established a reputation as a creative thinker and skilful negotiator who regularly thinks out of the box to deliver success. He brings a wealth of knowledge from the Defence Sector. He is a natural leader who injects energy into anything he takes on and can be relied on upon to get things done. In addition to his Defence and Security portfolio John is passionate about subjects such as climate change, climate security, countering disinformation and combatting the impact of poverty. He is honoured to be part of the GLOBSEC Team and believes that he has found his true vocation for his third career.