24. February 2022 |
Reading Time: 2 Min
ESG News by TPA experts:  Environmental, Social and Governance – has become a fixed component in the financial world. It expresses what is becoming increasingly important for many individuals and businesses: responsible and sustainable action with regard to the environment, society and corporate governance. Sustainability – alongside returns and security – is a relevant decision-making criterion when it comes to investments. Investors are scrutinising their portfolios and increasingly investing according to ethical, social and ecological criteria.
Sustainable action for tomorrow. Coroporate Sustainability.
Our ESG services for you
Preparation of a sustainability report
Definition and identification of company-relevant ESG KPIs
Support in ESG reporting for banks and other capital providers
Support with sustainable finance projects
Support in the conception of a sustainability strategy
ESG Due Diligence (in cooperation with Bluesave)
ESG news & Updates
Find out about current content on the topic of Environmental Social Governance & Sustainability here at our ESG news: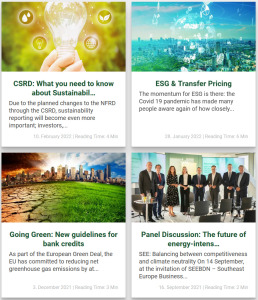 The pressure on companies to report on their social and environmental footprint is increasing – Our experts on Environmental, Social, Governance – ESG and Corporate Sustainability help you to meet all requirements and at the same time demonstrate your responsibility for your customers, society and the environment. Find our more in our ESG news about your Corporate Sustainability:
Act now for a sustainable tomorrow!
ESG News: Are you ready for CSRD ?
Due to the planned changes to the NFRD through the CSRD, sustainability reporting will become even more important; investors, banks and other stakeholders in particular will take sustainability information into account in their decision-making process. With the considerable extension of the reporting obligation to all large companies and all listed companies (with the exception of listed micro-enterprises) and the associated requirements, many companies will face new challenges, but also opportunities. Companies that already deal with the planned changes and requirements by the time of first-time application for the 2023 financial year and take the necessary steps to implement them in the best possible way can benefit from a competitive advantage.
Contact our experts about the new CSRD & sustainability reporting requirements and if you have any questions as to whether your company is affected or how you can benefit from the trend towards sustainability & ESG! Find our more in our ESG news: What you need to know about Sustainability reporting
Stay up-to-date with the latest Event news: Follow us on LinkedIn