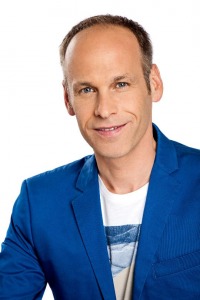 Marcus Wadsak is a studied meteorologist. He presents the "ZiB" weather, but is also head of the entire ORF weather editorial team.
The weather and climate expert regularly gives lectures on the topics of environment & environmental protection and climate & climate change.
Broadcasts & Presentations on ORF
Weather anchor in Ö3 Wecker
Weather in Willkommen Österreich
Publications
Donnerwetter! 201 Facts about Sun, Wind and Rain, Edition A, Vienna 2010
Climate Change: Facts vs. Fake & Fiction, Braumüller Verlag, Vienna 2020
Awards
2019: Journalist of the Year, Science Category
He is a founding member of Climate without Borders.